Middle Bass Pictures Taken in May, 2005
(plus 2 new satellite views obtained in May)
2 New Pictures Added May 24
The morning after I posted the first nine pictures, I got a request to produce a poster of the satellite image of Middle Bass Island. It's now available, digitally enhanced and very detailed, in the Middle Bass Island web store.

The Eagles Are Back

Aerial View of the New Dock

Aerial View of the Entrance to the New Campground

The Barn Behind the Bretz Farmhouse

Untended Flowers near the Bretz Farmhouse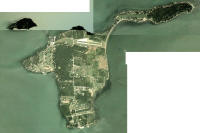 New Satellite Image (384KB)

Lake Erie Picture Taken by an Astronaut from the Northwest
The islands are clearly visible. Image courtesy of Earth Sciences and Image Analysis Laboratory, NASA Johnson Space Center, http://eol.jsc.nasa.gov; Image ISD_highres_STS096_STS096-701-16_3.JPG.
2 Eagles, added May 24

Marsh Turtles, added May 24
All Contents Copyright © 2000-2005 by Middle Bass on the Web, Inc. All rights reserved.
Reproduction without written permission is forbidden for any purposes other than personal use.
Revised: 21 Jul 2008 06:54:52.
This page has been accessed
times