Middle Bass Island Kidís Corner
Dear Kids,
You are Middle Bassís favorite people. Some of you live here year round. Some of you live here in the summer. Some of you visit. This Web page is for you. First, we have a quick puzzle for you. Can you find the baby in the following picture?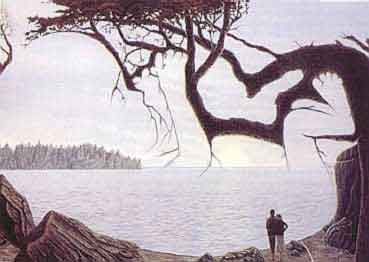 If you'd like to create some fireworks over Put-in-Bay, you can click here.
We know two kids who had a favorite Middle Bass prank. They spent summers on Middle Bass in a house without a bathtub or shower. The only way to get clean was to go in the lake. They loved the lake. They were not allowed to go swimming after dinner. Sometimes, they wanted to go for a swim so badly they couldnít wait for the next day. On their walks to get milk, they would find mud puddles and jump in them. They would get filthy. Then they would get to go swimming. That was their special prank. Do you have one too?
What would you like to tell other children about Middle Bass? What do you do here? What do you like best? What do you like least? What should a kid expect on his or her first visit?
If your Mom or Dad says it is OK, click on this link, and tell us your own story about Middle Bass, and we will publish it here. (If your email system doesn't get called up by clicking on that link, just send an email to jean@middlebass.org.) Sign it with your first name (or initial) only. No last names, please. Also list your age. Please make sure to get permission from your Mom or Dad first.
Message from Davis (14) on March 2, 2011
My name is Davis, I am 14. I have been visiting Middle Bass since I was 7 Months old! Middle Bass has changed over the years adding fun additions to the Island. We have a house on the Island and we are there most of the summer. Some of the most fun I had was with Arthur! Other fun things to do are swimming at Hazards and hanging out at J.F. Walleyes!
Message from Chloe (14) on October 5, 2008
Hello, my name is Chloe. I am 14 years old and live in Gallatin Gateway, Montana ( outside Bozeman). My Grandparents live on Middle Bass Island. Before we moved to Montana we would visit Middle Bass a lot. I love it so much!! It is the Ohio equivalent of the Spanish Peaks. I miss visiting the lake and the Island. The people on the island are sooo friendly, from Eddie at the General store to Mary and my Grandma at My Aunt Irma's . It feels like a small town. I love getting spoiled at My Aunt Irma's, where my Grandma works. I love going to the beach or J.F Walleyes and hear my Grandpa sing and play his guitar. I love going out on the boat fishing and swimming with my family. Catching walleye and perch off the boat and watching the waves on lake is a beautiful sight. I haven't been to Middle Bass in about 3 years. I miss it so much. Especially the fire works on the 4th of July. I'm kind of a history nerd, so I love the history of the Islands. I love Lonz Winery, I think it is great that they are making it a State Park. I have a painting of Lonz hanging in my room and look at it every day and wish I could go back. I also love just exploring around the Island!! If I could visit any place I would defiantly go back to MBI!!
Message from Jessica (12) on August 31, 2005
Hey Everyone! I am Jessica. I am 12 years old. I LLLOOOVVVEEE coming to Middle Bass!!! In the summer I am always there with my cousin Taylor. I stay with my grandma and grandpa. Its soo MUCH funn there! I am soo happy because we got to Jet Skiies!! My grandma and grandpa have a house by the water. But we are re-building it. When I come up to the Lake I love to go on the jet skiies, I am tring to learn how to water ski....but I am kinda bad at it....well I am really bad at it
. Also I love to go fishing... I always go fishing!! I love to go to Put-In-Bay with Taylor...we will just got there and go shopping and walk to place to place and maybe to to the top on the Perry's...It sooo HIGH up there!!! But I love going there because its so quite and you can just come there and just lay out in the sun alllll day and no one will tell you to leave or anything and you can just get away from everything up there!
Message from Dana (15) on November 11, 2004
hey guys! this is dana n i just wanna tell you how amazing middle bass island is! i have a summer house on middle bass that has been passed down thru my family for a REALLY long time..and ive been going up there for like my entire life. this summer my dad got transfered for his job..and we had to move to arizona...which totally stinks because now we arent going to be able to go up to the lake as much. this weekend my familys going to california to the beaches just so we can feel like we're at the lake again because we miss it SO much. soo if anyones planning on getting a house on the island..i reccomend it greatly! youll love it..i promise!
Message from Emma (3) on May 27, 2004
My name is Emma and I am three years old. In the summer I get to live on Middle Bass with all 6 of my cousins and my sister. Many of them live really far away in the winter, so it is great!! We play together all day long. I love to throw rocks, play in the sandbox and swim, but most of all I love to ride in the blue swing and do a drop!! My Yaya and Papa live there, too and I love to go to Yaya's house for chocolate milkshakes.
Message from Jessica (10) on April 4, 2004
Hi my name is Jessica,
I am 10 years old. I come to Middle Bass Island all the time, I come over Easter week and I stay at my grandma and grandpa's house. In the summer I come here and stay about all summer long ,it is the best place in the WHOLE WORLD!!! When I come to Middle Bass I like to go fishing and play. Also when I am there I like to see some of my friends like Michael, Arthur, Cinnamon and more. I can't wait till summer to see my friends at Middle Bass also I can't wait for Easter too because that it coming soon!!!!!
~JeSsIcA~
Message from Ross (17) on January 5, 2004

Hi my name is Ross, I am 17 years old, and my grandparents are summer residents on the island. I love to visit them every year via miller ferry line. I am great friends with allot of the people on the island save a few you know who you are. I enjoy the serenity of the island when I can manage to find it, kayaking is also really great, But my favorite thing to do on the island is hunting critters with Artie (not Cinnamon) ha! '_' I Love all u guys! And I will see you soon.

Keep'n it Real

-Ross

Message from Gavin (5) and Mason (2 1/2) on October 7, 2003

MY NAME IS GAVIN AND NOW I AM ALMOST 5 YEARS OLD. I LIKED SWIMMING IN THE LAKE AND SLIDDING ON THE ROCKS. I LIKE TO PLAY ON THE SWINGS IN THE PARK AND AT MY FRIEND, KATHERINES. I AM MASON AND I LIKE TO RIDE MY GRANDPA'S JET SKI. I LOVE TO BE IN THE SHED AND PLAY WITH THE TOOLS. BUT MY FAVORITE THING IS TO SWING ON THE PORCH AND SING "PARTY LIGHTS". THE "GILL BOYS"

Poems by Mary (13) on August 9, 2003 next message

My Muse

The lake is my muse

Looking at it lights the fuse

To send ideas pouring through my brain

Pounding through it like a train

Leaving me feeling happy and full

Even though I still feel the pull

Of poetic poems surging through

Too Many

Big and bright

Black and white

Dumb and noisy

I do declare

There are seagulls every where

From post to coast

And all in between

There are more than Iíve ever seen

Erie

Reflective as glass

The lake slowly undulates

Quietly rolling

Message from Arthur (6) on

February 28, 2003 -

Webmaster's note: When he was born 6 years ago, Arthur became the first child born to a year-round resident in over 20 years

:

Hi

My name is Arthur. I live on Middle Bass year round and go to school at Put-In-Bay. I am in the first grade and my sister is Cinnamon who is in 10th.

I love to snake hunt and fish. In the summer I fish everyday off the docks. When i'm not fishing , I am snake hunting or swimming. Last week I caught my first walleye threw the ice with my dad.(His name is Art). My walleye weighed about 3 pounds. I also have a dog, some fish, a firebelly salamander and a hamster. I want a pet snake but my dad won't let me, he's a scaredy cat. I can't wait for summer to see my Middle Bass friends. We have fun snake hunting and turtle hunting!

Message From Michael (12) on January 15, 2003:

HI my name is Michael and our family has a place on middle bass and we go up there every weekend in the summer. If u read the other letters Danny is my twin and Jessie is my nabor. We have a lot of fun up there. We go tubing fishing swimming and more. We have a lot of friends too. Once we even cought a snake and walked 2 miles home with it in a bucket. Well right now its winter and I can wait untill the summer to go back up to Middle Bass.

~MiChAeL

Message From Michael (13)

on October 25, 2002:

Hi michael I'm 13 years old live on Middle Bass Island year aruond. I go to Put-in-Bay to school. In the summer I take a BOAT to school, In the winter I FLY. I injoy the fishing and the quite life. I like the winter the best because there is no TOURISIT or SUMMER people to bug me. Maybe we will see each other with out knoing it.

True Resident

Michael

Message From Ashley (8) on July 1, 2002:

Hello my name is Ashley I am 8 years old

I go to Middle Bass every summer. This summer I did not go because My Papa Sunny and Nana Bunny's cottage wall got hurt in the storm. When I go to middle bass I Like to go to the playground with my brother Christopher . And play with my Papa and aunt Monica and uncle Karson to. I like to go to Put In Bay because we go shopping. I cant wait until next year so I can go play at Middle Bass Again

Message From Adam (13)

on June 1, 2002:

I remember last year, my mom and I went to Middle Bass on a nice sunny day. When we first stepped off the ferry with our bikes, I noticed a sign advertising honey. Since we both have a sweet tooth, we rode our bikes all over the island searching for this great stuff. At the end of our day, we ended up at a little store that was selling it. After I took the honey home, about a week later my dad threw it away. He said,"We don't need two bottles of honey in this house. Luckily, the day before I used almost half of it at dinner!

Message From Danny on April 1, 2002:

Hey im Danny im 12 i love going up to lake erie. My family and I go up there

every weekend in the summer. It is soooo much fun. One of the things i love to do is to go on bike rides. Other stuff is to go swimming, fishing, playing games on the island, and goin on our boat. I also have a lot of friends up there that also have houses up there so we can play together a lot. I cantwait untill this thurday because it is the 1st time this year im going to go up there!!:) I CANT WAIT!!

Message From Jessie on March 9, 2002:

hey this is jessie!!! I got to middle bass every summer on thee weekends!!!! we have a little cottage!!!

well when you first got you should ecspect bugs and a weekend of fun you will have a ball the general stor is so much fun to go to they have a lot of candy!!!! I love to go fishing!!!

well I should go have fun at middle bass

jessie

Message From Gavin on February 19, 2002:

MY NAME IS GAVIN GILL AND I VISIT MY GRANDPA, GRANDMA AND GREAT-GRANDPA IN THE SUMMER. MY FAVORITE THING TO DO AT THE ISLAND IS...THROW ROCKS!! AND I LOVE TO THROW SOME MORE ROCKS. I AM 3 YEARS OLD AND I LOVE MIDDLE BASS. I ALSO LIKE TO WALK TO THE GENERAL STORE AND GET CANDY FROM EDDIE.

WHEN I RIDE ON THE FERRY BOAT THEY LET ME BLOW THE WISTLE BECAUSE MY GRANDPA USE TO WORK ON THE FERRY BOATS AND MY DAD, HAYDEN, WAS A DOCKMASTER.

WHEN I DRIVE PAST THE LAKE IN THE WINTER I ALWAYS THINK ABOUT MIDDLE BASS.

All Contents Copyright © 2000-2005 by Middle Bass on the Web, Inc. All rights reserved.

Reproduction without written permission is forbidden for any purposes other than personal use.

Revised: 05 Nov 2008 12:18:03.

This page has been accessed
times