Town Hall (also Church of Middle Bass, left) and Schoolhouse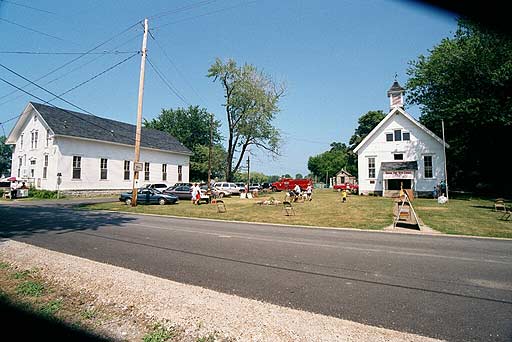 The Church of Middle Bass began as The Middle Bass Sunday School in 1896 by families living on the Island that saw the need for Christian education on the Island. The Sunday School was usually held in the school house but sometimes held in the Island Hall in the summer. When a minister was available church services were held. Quite often the Rector from St. Paul's, Church at Put-in-Bay would officiate the service.
The ladies of the Sunday School were well known for their delicious oyster stew suppers at Thanksgiving. Profits from the oyster suppers helped defray expenses for the annual Christmas programs.
The Church of Middle Bass was officially established in 1984 as the need for regular Sunday services grew and is chartered as an interdenominational Church. The Church of Middle Bass meets each Sunday at 10:00 AM in the Town Hall May through September. The Church also sponsors a Bar-B-Q pot blessing/luck dinner the first Saturday in August for everyone on the island. Church services are listed on the Middle Bass Island Calendar.
A separate Catholic Mass usually takes place in the same church at 12:20 PM on Sundays during the summer. Our Lady of Sorrows church in Put-in-Bay is responsible for planning and holding the mass.
People attend services from many Church backgrounds with one common goal, to pray, and praise the Name of Jesus Christ as Lord. A children's Sunday School is conducted at the same time as the 10AM church service. Everyone is invited to fellowship with The Church of Middle Bass and experience this unique experience.
All Contents Copyright © 2000, 2001, 2002 by Middle Bass on the Web, Inc. All rights reserved.
Reproduction without written permission is forbidden for any purposes other than personal use.
Revised: 21 Jul 2008 06:55:00.
This page has been accessed times