Excerpts from the George Lonz Book "Wine Time Chats", 1933: The Introduction
(published immediately after the end of Prohibition, which lasted from 1920 to 1933)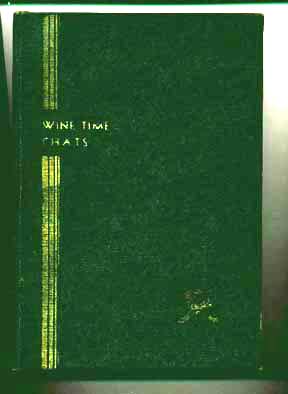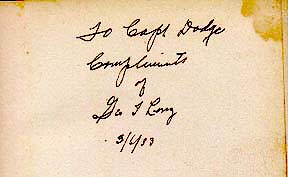 A P E R S O N A L W O R D
"Wine that maketh glad the heart of man." - Old Testament.
One of the satisfactions of my work as a vintner lies in the friendly contacts which have been mine with men of range and understanding. How often on a hot, sultry day among the vineyards at Middle Bass have I paused to quench my thirst over the recollection of a delightful toast or an incident from life as told to me by a friend or pressed, like the juice of the wine, from the letter of a patron!
It has been my pleasure to serve and be served by many who, to me, qualify as wearers of the purple, i.e., as gentlemen to the manner born.
I have listened to their wit, their wisdom and their friendly chats and have often noted the fine strain of humanness in their letters. As their vintner over many years I have furnished them the choicest juices from my press house sine the days that followed the rise of Volstead and his alleged noble experiment.
But I often wished it would have been legal for me to transport to them some of the juice seasoned and given its well aged strength and inimitable tang in my private island cellar vaults.
Prior to Repeal of the Eighteenth Amendment I steadfastly refused to engage in any traffic of the fine, aged wines and champagnes which old friends and customers, remembering the quality of Lonz wines, frequently asked me to supply. Some of them offered to pay "any price", but much as I wished to favor them, I withheld.
My opportunity for carrying on the vintner's art which for more than three generations had been linked with my family name, was restored when the verdict of Utah was added to the demand of 35 other states and the final knell of Prohibition's end was sounded. I could now provide well matured vintages to my customers.
Throughout this last season, I've been busy every minute getting my cellars ready - pressing and preparing wines under the most exacting standards possible. They say I'm too anxious about the delicate shades of aroma and flavor. But my answer is that's what distinguishes the superb vintages of the world . . . and now I am ready to offer an excellent assortment of those remembered, intriguing clarets and bubbling champagnes and other varieties and blends of wines.
* * *
Wine making is both a science and an art. One must have proven formulae and a delicate sense for aromas. In the celebrated wine cellars of continental Europe wine tasters are held in public esteem as connoisseurs; families of wealth and distinction await their judgments and accept their endorsements.
Over here at Middle Bass we have long known the conditions and practices essential to the manufacture of pedigreed vintages. We inherit the tradition, the formulae, and the conscience for the warming, health-stirring brimming glass that cheers and benefits. Our product demonstrates that we know the art.
In sending this volume it is my hope that its friendly, chatty tempo will companion an occasional toast of good will and inspire congenial reflections as you pour and sip.
(Signed) Geo F Lonz
Signed by George Lonz 6/3/33
All Contents Copyright © 2000, 2001 by Middle Bass on the Web, Inc. All rights reserved.
Reproduction without written permission is forbidden for any purposes other than personal use.
Revised: 21 Jul 2008 07:49:52.
This page has been accessed times