Middle Bass Island Aerial Views
(and one picture of Cedar Point)
February, 2008
All pictures on this page are Copyright Ralph Renninger. Permission for reuse can be obtained by calling (614) 761-9175
Ralph Renninger sent me a great set of pictures from February, 2008 showing snow and ice on and around Middle Bass.
I received the pictures on March 19 and just yesterday, March 18, I was speaking with a friend on Put-in-Bay who told me that the ice in the harbor is still 15 inches thick and it looks as if the ferries will not be starting on schedule on March 21.
According to my friend, Put-in-Bay is running short of supplies. Grocery supplies are low, gasoline purchases are being limited to $10 a day, and lumber for construction has run out. So everyone is anxious for winter to end. Of course, critical supplies can be flown in, but heavy ice this late is rare.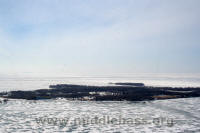 Middle Bass Island from the east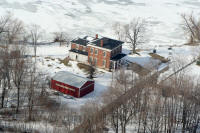 The Middle Bass Island Inn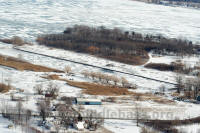 The Middle Bass Island State Park Marina
Sunset on the Ice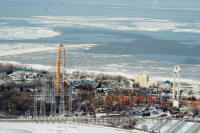 Cedar Point from the Air
All Contents Copyright © 2000-2008 by Middle Bass on the Web, Inc. All rights reserved.
Reproduction without written permission is forbidden for any purposes other than personal use.
Revised: 21 Jul 2008 07:50:35.
This page has been accessed
times