Navigation
History
Links
Community
Middle Island - August, 1999
Now a wildlife refuge (see story below picture) owned by the Canadian Nature Conservancy, Middle Island is 7 miles due east of Middle Bass, and is the southernmost point in Canada. The island is home to a wide variety of birds in large numbers, and the picture shows cormorants with a few herons also visible. For more recent pictures, go to Middle Island, 2002, Pictures 1-2 or Pictures 3-4. There is also a new picture from 2003 of a sign on the island.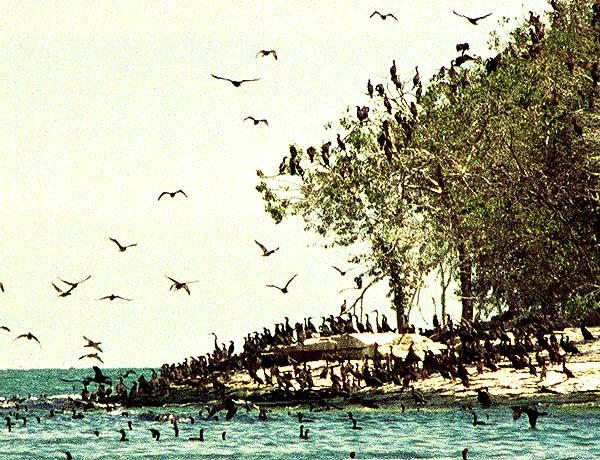 LEAMINGTON, ON, July 19, 2001 /CNW/ - The Honourable Sheila Copps, Minister of
Canadian Heritage and Mr. John Lounds, President of the Nature Conservancy of
Canada celebrated today the addition of Middle Island, Canada's southernmost
point, to Point Pelee National Park of Canada. Ownership of the island was
transferred from the Nature Conservancy of Canada (NCC) to the Government of
Canada on September 6, 2000. Today's ceremony marked the culmination of
collaborative efforts over the last two years to reacquire Canadian ownership
and to ensure the protection of the Lake Erie island.
    "Today is a glorious day for Canada," said Minister Copps. "By adding
Middle Island to Point Pelee National Park of Canada, we are not only
expanding the boundaries of one of Canada's national parks but we are ensuring
that Middle Island's fragile habitat and its significant heritage values will
be protected in perpetuity."
    Although situated in Canadian waters, Middle Island was, for many years,
under private American ownership. In July 1999, the NCC, with the support of
Parks Canada and other contributors, purchased Middle Island at an auction in
Cleveland, Ohio, for $1.3 million (CDN).
    Point Pelee National Park of Canada is part of the 39 national parks and
national park reserves in Canada that make the country-wide system of
representative natural areas of Canadian significance.
    "We are delighted that this national treasure will now be preserved for
future generations of Canadians to enjoy, under the careful stewardship of
Parks Canada," said Mr. Lounds. "Not only does this island have a very special
place in the hearts of Canadians, but it is a prime example of a very
significant ecosystem in need of protection from development. By preserving
Middle Island we have saved a unique piece of Canada's natural heritage."
    "Today's ceremony is a wonderful example of what can be accomplished when
partners work together with a common goal," stated Ms. Susan Whelan, Member of
Parliament for Essex. "We can take pride in the growth of our system of
protected areas and in the cooperation that is shown in the acquisition of
them."
    Mr. Jerry Pickard, Member of Parliament for Chatham-Kent Essex, was
quoted as saying: "Middle Island is ecologically, symbolically and
historically an important piece of property. It gives me tremendous pride
knowing that Middle Island will forever be in Canadian hands."

    CP2001-000380



-30-

For further information: Catherine Gagnaire, Press Secretary, Office of 
the Minister of Canadian Heritage, (819) 997-7788; Marian Stranak, 
Superintendent, Point Pelee National Park of Canada, Parks Canada, 
(519) 322-2365 (ext. 212); Jane Lawton, Director, Corporate Marketing & 
Communications, Nature Conservancy of Canada, (416) 932-0050 (ext. 278). 
(Available on the Internet at: www.parkscanada.gc.ca under What's New)
All Contents Copyright © 2000, 2001 by Middle Bass on the Web, Inc. All rights reserved.
Reproduction without written permission is forbidden for any purposes other than personal use.
Revised: 21 Jul 2008 07:49:58.
This page has been accessed times