Lake Erie Islanders: Peter F. Lonz (and George Lonz) of Middle Bass Island
Sketches from the 1917 History of Northwest Ohio
(reference 4a in the Bibliography)
PETER F. LONZ. A certain exclusive and select patronage has long known and appreciated the Lonz vintage of sour wines, representing all the distilled sunshine and flavor of Bass Island grapes. The processes of making these rare vintages have been evolved by the Lonz family and the output is now made by the firm of Peter F. Lonz & Son of Middle Bass Island.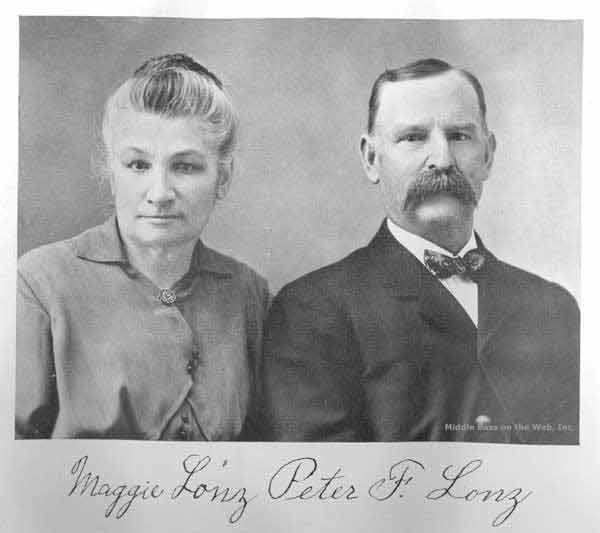 For fully forty years Peter F. Lonz has been a resident of Middle Bass Island. He came to the island on March 1, 1876. At that time he was nineteen years of age, having been born near Sandusky March 5, 1857. His father was named Peter Lonz. After coming to Middle Bass Peter F. Lonz was employed five and a half years by Mr. Wehrle in the wine business and grape culture. With that experience he started out for himself, and in 1886 he began pressing grapes and manufacturing wine. From the first he paid more attention to quality than quantity, and the pure wine from his presses had a reputation that was recognized by the trade. Again and again he has had to increase his facilities and space, and the business was already one of considerable proportions when in 1912 his son George entered partnership with him. At that time the firm erected a complete new cellar. It was constructed entirely of brick, and is equipped throughout with the latest improved machinery, including elevators, waterworks and all the presses and storage facilities required for making and curing wines. At the present time the firm press about ten thousand gallons annually. Though this product is quite large, the Lonz wines are not found in the common centers of the wine trade, the product being entirely taken by an exclusive patronage, and even that the firm is unable to supply with all that is demanded.
George Lonz now has the active executive management of the firm of Peter F. Lonz & Son, and since he took charge the business has quadrupled in extent. The firm operates forty-two acres of land, with twenty-five acres in vineyard, and besides pressing out all their own grapes they buy grapes from other growers. In 1915 they added another important improvement to their equipment in the shape of a fine brick barn.
Mr. Peter F. Lonz is an active democrat and has taken a prominent part in local affairs. He is now serving on the school board, with which he has been connected for some years and has filled the position of treasurer. He is a member of the Lodge and Encampment of the Independent Order of Odd Fellows. He was one of the original incorporators of the Bass Islands Vineyards Company of Sandusky.
In 1882 he married Miss Margaret Siegrist, daughter of John Siegrist of Middle Bass Island. To their marriage have been born four children, of whom a son and daughter are now living. The daughter Louisa married William C. Krueger, who is an engraver by profession and is employed by one of the large printing houses in Chicago. Mr. and Mrs. Krueger have a daughter Henrietta. The two children dead are: Cora, who died at the age of 19; an infant who died unnamed.
George Lonz after attending the public schools on Middle Bass Island and later at the Sandusky Business College, entered the Ohio Northern University at Ada, where he specialized in chemistry and where he was graduated in 1910. He then entered the Government laboratories at Charlotteville, Virginia, and secured a broad and thorough technical knowledge of all the phases of wine making. This technical training has proved of great advantage to him in his business, and along with thorough knowledge he combined aggressive and progressive enterprise. He married Miss Fannie Macklen of Columbus, Ohio.
One of the most prominent democrats of Ottawa County is Mr. George Lonz. He is still young, but has shown his forcefulness in party affairs in different ways. He is now serving his second term as township trustee. In 1914 he was a candidate for the state legislature. His defeat was accomplished by a very small majority. It is almost a tradition that any island man is supposed to have no chance for county or any offices except local ones. George Lonz is affiliated with Put-in-Bay Lodge of the Independent Order of Odd Fellows and with the Masonic Lodge at Port Clinton.
All Contents Copyright © 2000-2003 by Middle Bass on the Web, Inc. All rights reserved.
Reproduction without written permission is forbidden for any purposes other than personal use.
Revised: 21 Jul 2008 07:49:45.
This page has been accessed times