The Nina in Schoolhouse Bay
June 29, 2004
On her way to a 4th of July celebration in Mount Clemens, MI, near Detroit, the Nina and her crew spent June 29 in Schoolhouse Bay off the east shore of Middle Bass Island working on the boat, mostly painting and cleaning.
Built and operated by the Columbus Foundation in the British Virgin Islands, the Nina is the most historically accurate replica ever built of one of Christopher Columbus' ships. Even the crew quarters are as in the original.
In the first picture, a coast guard patrol boat is checking her out, probably because she had no name or serial number anywhere on her hull. We even saw documents passed from the Nina to the patrol boat. But apparently she passed muster.
At the end of the gallery is another picture of a different Nina in Lake Erie, in 1913.
The picture below is of the Nina, Pinta and Santa Maria docked at the foot of Jackson Street in Sandusky in October, 1913. These replicas were built for the 1915 San Diego Exposition.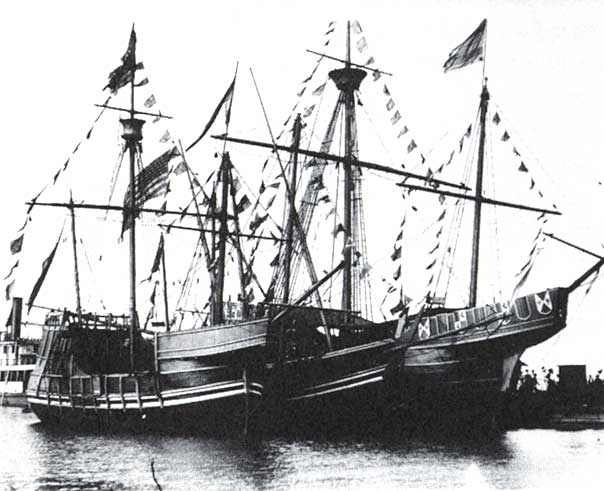 All Contents Copyright © 2000-2004 by Middle Bass on the Web, Inc. All rights reserved.
Reproduction without written permission is forbidden for any purposes other than personal use.
Revised: 21 Jul 2008 07:50:01.
This page has been accessed times