Rattlesnake Island Local Post Stamps showing Middle Bass Island, 1966-67
Rattlesnake Island, just west of Middle Bass, had its own local postage stamps from 1966 to the late '80s. The triangles below are from 1966, and the imperforate rectangular stamp is from 1967. The locals were issued because Rattlesnake Island didn't have an official U.S. Post Office, and therefore had to produce its own local stamps to cover the postage from Rattlesnake to the mainland at Port Clinton. The letters were usually flown by the Ford Tri-Motor.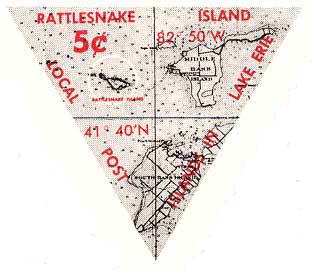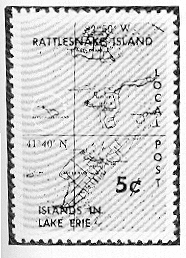 The Above 1967 5 cent issues were printed in perforated and imperforate versions, as triangles and rectangles.
All Contents Copyright © 2000, 2001, 2002 by Middle Bass on the Web, Inc. All rights reserved.
Reproduction without written permission is forbidden for any purposes other than personal use.
Revised: 21 Jul 2008 07:50:08.
This page has been accessed times