ACTION ALERT! ACTION ALERT! ACTION ALERT!
August 2001
Dear Island Friend:
Thank you for participating in the March 2001 mailing to the Ohio Department of Natural Resources, Ohio EPA and Put-in-Bay Township Port Authority regarding the proposed development of a recreational marina and ferry dock at St. Hazard's Resort on Middle Bass Island. As a result of that initiative, the Ohio EPA has scheduled a public hearing to receive comments as to whether there may be a degradation or lowering of water quality from the marina. We would like you to either attend the hearing on Monday, September 10, 2001 at 4:00 p.m. at the Middle Bass Island Town Hall or sign and send in the attached letter by September 17, 2001. A copy of the OEPA hearing announcement is attached.
As mentioned in our March cover letter, the Ohio EPA was prepared to deny the marina application under Section 201 certification in June of 2000 but has been uncommunicative since. The Agency also seems indifferent to the water quality concerns associated with the condominium development continuing on the beach at St. Hazard's - a development that would not now be allowed under existing Ohio Coastal Management regulations.
We hope you will join fellow island property owners in expressing the concerns for this proposed marina. The public trust of the waters are at stake as well as the innate beauty and welfare of the environment.
Please attend the hearing or send in your comments to be received no later than September 17,2001. Should you submit the attached draft letter, please date, sign and add your mailing address. The letter may be submitted at the hearing as well.
Sincerely,
Middle Bass Island East Shore Association and Friends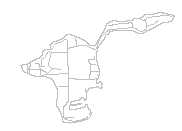 All Contents Copyright © 2000, 2001 by Middle Bass on the Web, Inc. All rights reserved.
Reproduction without written permission is forbidden for any purposes other than personal use.
Revised: 21 Jul 2008 06:54:52.
This page has been accessed times