Check out the Webmaster's Log and the 2nd islander's log, Lisa's Middle Bass Blog.
Ottawa tribe's claim on North Bass Island rejected - See the Plain Dealer article or the Toledo Blade article. - June 3, 2005
New Middle Bass Island Guest Book - The old guestbook was being hit almost daily by spambots leaving automated entries with lots of links to sites most people don't want to see, so we had to switch to a different technology. All the old guestbook entries from the past 5 years can still be viewed here. - June 2, 2005
2005 Fine Arts Festival Information and Forms - June 2, 2005
2 More May Nature Images - May 24, 2005
Thanks to the Clean-Up Day Helpers. Mary Roesch would like to thank everyone that participated in the clean-up day on Middle Bass last Saturday 5/14, with thanks also to Walleyes' for providing the lunch. It was a great success and now we ask that everyone pitch in this summer to keep our island looking so clean! - May 19, 2005
Miller Boat Line Centennial - Miller Boat Line will celebrate 100 years of service to the Lake Erie Islands with a public Open House on Saturday, June 11, 2005 from 1 – 4 p.m. The open house will be held at the Put-in-Bay Yacht Club and Miller Ferry office (535 Bayview Ave., Put-in-Bay, Ohio). More information about the open house can be accessed by calling 1-800-500-2421 or visiting www.millerferry.com. - May 15, 2005
Cinnamon Wolf is Graduating from PIBHS

Cinnamon is the only Middle Bass Islander in this year's graduating class at Put-in-Bay High School on June 10. Congratulations, and best wishes for a wonderful future. She'll miss those boat and plane rides to school.- May 12, 2005
Charlene Ramsey is Hospitalized - Roger & Charlene Ramsey, who winter in Florida, were on their way back to Middle Bass on April 19 when they were involved in an auto accident around 4AM near Chattanooga, TN. The accident left Charlene severely paralyzed. She was moved to the Shepherd Spinal Center, Room 313, in Atlanta, GA where Roger and Charlene would appreciate your kind thoughts. - May 11, 2005
Pictures of the eagle, the new dock and the new campground, plus 2 new color space views - May 11, 2005
Families of Pelee Plane Crash Victims Sue Pilot, Airline, Plane Maker and Township for $57 Million - May 10, 2005
New Campground at the State Park.
The Middle Bass State Park has a new campground this year for 20 tents. Complete with picnic tables, rest rooms and parking spots, the campsite is on the west shore just north of the end of the old dirt runway that used to cross the street. That's about 200 feet north of Walleyes' restaurant. There are also new shower facilities for boaters at the state park marina. We also have an aerial view of the entrance to the campground. - May 10, 2005
Book Signing at LEIHS on June 4. Jean Gora, a 3rd-generation summer resident of Middle Bass, will be signing her new island history book My Sweetest Libbie at the opening party of the Lake Erie Islands Historical Society at Put-in-Bay on June 4. Subtitled "Details of Life in Put-in-Bay, Lakeside and Detroit in 1886-87, Seen Through Love Letters", the book centers around a collection of about 60 letters that have never been published before. It is a wonderful and heart-warming story of life in Put-in-Bay in the 19th century. It will be available in other island stores and on the web in June. May 8, 2005
Obituary - Arlene L. Roesch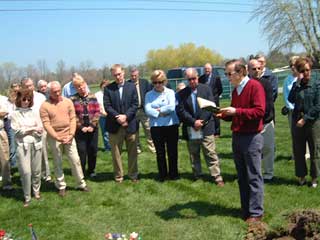 Arlene L. (Walter) Roesch, age 88, residing at Otterbein North Shore, Lakeside, Ohio, and formerly of Avon Lake and Middle Bass Island, died early Tuesday, April 21, 2005. She was born on September 9, 1916 in Cleveland, Ohio. She was a member of St. Joseph's Catholic Church in Avon Lake, Ohio. She had been employed as a secretary for George F. Lonz and the Lonz Winery early in her career. Arlene is survived by two sons, Jim (Mary) Roesch of Middle Bass Island, and Bob (Kathleen) Roesch of Westlake, OH and five grandchildren, Matt, Erin, Cara, Mickey and Kelly. She was preceded in death by her husband, Carl F. Roesch, on Oct. 23, 1994; and by her parents, Robert and Anna (Maier) Walter. Arlene was laid to rest in the Middle Bass cemetery today, May 7. A picture from the cemetery service is above. In lieu of flowers, memorial contributions may be made to the Ursuline Sisters, 4628 Ammon Road, Cleveland, OH 44143; or Stein Hospice Service, Inc., 1200 Sycamore Lane, Sandusky, OH 44870. - May 7, 2005
Middle Bass Nature Camp is June 27-30. For more information, or to enroll your kids, click here (PDF, 48k). May 3, 2005
Middle Bass Clean-Up Day is May 14th. Everyone is invited to celebrate Middle Bass Spring clean-up day on Sat. May 14th from 10a.m. - 2p.m. Children and adults may pick up trash bags with location assignments at My Aunt Irma's and then bring back the filled trash bags to Irma's. In exchange you will be given a coupon for hot dogs, chips and dessert at Walleyes at 2p.m. Let's all get out and make this an island event. May 1, 2005
New Middle Bass Island Discussion Board is now available, with additional sections for the other islands. After a variety of technical problems and other issues with the old board, we replaced it with a much nicer and more modern board. Anyone can browse messages, but you will need to register before you can post messages. - April 22, 2005
Oklahoma Indian Tribe Files Claim on North Bass Island - April 6, 2005
Webmaster and wife become grandparents
| | |
| --- | --- |
| | Joseph Orlin Crooks was born on March 25 in Chapel Hill, NC. His parents, Jim and Kristi Crooks live in Durham, NC and come to Middle Bass several times a year. His grandparents, Mike and Jean Gora, now live in Hayesville, NC during the winter and on Middle Bass Island during the summer. - March 28, 2005 |
Ferry rates remain status quo despite increasing fuel costs - March 26, 2005

Area state parks to use honor system to collect parking fees - March 10, 2005

Budget woes trim workers at Ohio state parks - March 7, 2005

Poster of 1886 Lake Erie Islands Map Added to the Web Store. Last week, I received a request for one or more large historic maps of the islands to frame, and created a poster of the 1886 map. I was asked to do one more, and will soon also produce one of a great 1901 map that is not on the site. - February 28, 2005
Belle Cartledge is Recovering from a Heart Attack. Belle Cartledge of Middle Bass (MB) suffered a heart attack on Monday 2/14/2005 or Tuesday 2/15/2005.

According to her husband, Doug, a paramedic from Put-In-Bay came to MB across the ice on an ATV. and John Glauser brought the MB ambulance and equipment to the house. The life flight helicopter couldn't come because of the weather and there was fog in Sandusky, so Dairy Air flew Belle to the Port Clinton airport. EMS transported her to the Firelands hospital where it was determined that arteries were blocked. A stent was placed in one artery.

When released from the hospital (on about Friday, 2/18/2005) she and Doug traveled to their son Charlie's home in Barberton, OH. Their other son, Doug, flew them back to MB on Thursday, 2/24/25.

Belle will return to the hospital on about Monday, 2/28/2005. A stent will be placed in a second artery. - February 28, 2005

$26,000 allocated to 'un-threaten' Lake Erie watersnakes - February 25, 2005

$7.59 Million in Budget for Middle Bass Island State Park - January 28, 2005
Middle Bass and Lake Erie Pictures on Roman Sapecki's new site. Roman is a Middle Bass resident who is a professional photographer, and has a great new web site showcasing some of his work. Much of his Middle Bass and other work is also on display at a show that starts Friday, January 21 with an opening reception from 5-9PM at Art Metro, 530 Euclid Ave., Cleveland. The show runs through February 25. - January 20, 2005
New Lonz Winery Pictures from the 1940s and 1950s - January 19, 2005
Schedule for the 2005 Fine Arts Festival
Friday, July 8
Adult Art Classes begin
Saturday, July 9
Upper Island Chamber Recital Benefit
held at North Bass Church and School
Sunday, July 10
Sunday morning Music in the Town Hall
Sunday afternoon: Recital, East Point Stone Manor
July 11-16
Children's art/music classes
Saturday, July 16
Children's Performance and Art Exhibit
Sunday, July 17
Sunday morning: Music in the Town Hall
Sunday afternoon: Concert and Art Exhibits
- January 16, 2005

Hard Aground on the Sugar Island Reef - New Photos from August, 2002 - January 12, 2005
Lawmakers must fix state park system Editorial saying state could not afford Middle Bass and North Bass park land acquisitions. - January 10, 2005
When the Snow Flies... Article in the Port Clinton News Herald about how Ottawa County teachers, including the one from Middle Bass, get to school - January 7, 2005
| | |
| --- | --- |
| | The calendar is available in the Middle Bass post office, or can be bought on the web by clicking on the above link. September 14, 2004 |
The limited edition Middle Bass Postcard Poster that was available at the artist's fair at Aunt Irma's at the beginning of August will be available again next summer. It is not available during the winter.
Lake Erie Islands: Sketches and Stories

Major new book about Lake Erie Islands History NOW AVAILABLE

Lonz of Middle Bass - Reprint/Update of 1982 book.

Both books are available at

| | |
| --- | --- |
| | My Aunt Irma's, Middle Bass |
| | Johnston's, Middle Bass |
| | Lake Erie Islands Historical Society, Put-in-Bay |
| | Maritime Museum, Vermilion |
| | Maritime Museum, Sandusky |
| | Border's stores in the Cleveland area |
| | Ottawa City General Store, Catawba Island |
| | and at a number of other retail locations. |
| | Or click on the link to order on the web. |
Four Other Books in the Middle Bass Web Store - When did you last have the opportunity to buy 3 different books with "Middle Bass" in the original historical title (in addition to the Lonz of Middle Bass book mentioned above)? All 3 are reprints and have great pictures, but none of these has ever been reprinted before. The 4th is a Port Clinton reprint, but with a full-page ad for Wehrle's on Middle Bass that we have touched up and put on the back cover. Three of the books have LOTS of Put-in-Bay pictures. The books are also available at the Lake Erie Islands Historical Society on Put-in-Bay.
| | |
| --- | --- |
| | "Middle Bass, Ohio 1877-1977" Centennial Booklet from 1977. |
| | "Lake Erie Islands: Put-in-Bay, Gibraltar, Middle Bass, Kelley's Etc." 1886 picture book. |
| | "Nichol's Handy Guide Book to Put-in-Bay, Middle Bass and Kelley's Island", a delightful tourist guide from 1888, newly typeset. |
| | "Illustrated Port Clinton and Environs" with sections on Port Clinton, Catawba and Put-in-Bay, and a full page ad for Wehrle's Hall. From 1898. |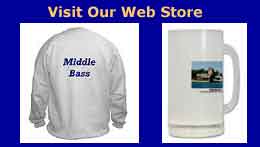 The Middle Bass Island State Park Newsletters and State Park Master Plan can fill you in on the status of the plans for the new park.